Trees and shrubs are starting to go dormant, but will still grow roots. Take the time to fertilize in the fall and plants and lawn roots will grow a stronger base on which to thrive next spring.

When Should I Fertilize My Lawn?
September is the recommended time to fertilize your lawn, but because of the hot continuation of summer we have had this year, October is still a great time to fertilize. A long hot summer can cause grass to be in a drought-induced dormancy, but a shot of nitrogen in your fertilizer can help push blade growth.
Fertilizing at the beginning of fall will get your grass growing again – make sure to follow the manufacturer's recommended rate of application.
Don't forget to add another fertilizer application at the end of October or early November as an essential step in lawn care. Fertilizing now will help stimulate root growth through November into early December.
Helping root growth now ensures that your lawn will be greener in the spring and be more resistant to disease and drought.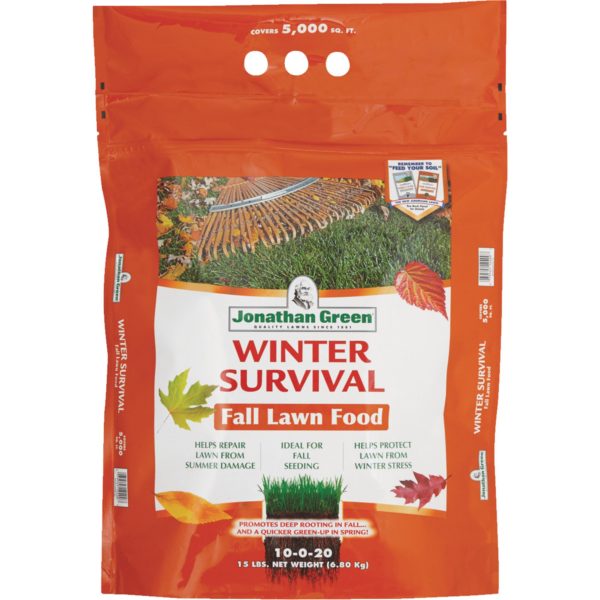 To help repair lawn from summer damage and protect your lawn from winter stress, The Farm recommends Winter Survival by Jonathan Green. It promotes deep rooting in the fall for a quicker green-up in spring!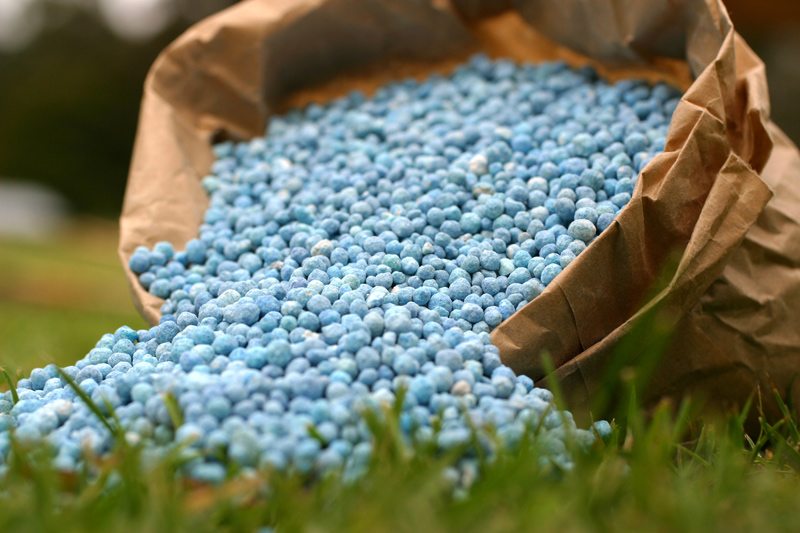 When Should I Fertilize My Trees & Shrubs?
A good time to fertilize trees in most Northern temperate climates is from fall to mid-spring. At these times the tree's roots take the nutrients from the soil and apply them to important health-promoting functions such as root development and disease resistant, rather than only putting out new growth.
During the growing season, fertilizing can help a tree overcome mineral deficiencies and fight off infections. If you are fertilizing in mid- to late summer, avoid formulations high in nitrogen as this will just promote weak, new growth that may be easily damaged in the winter.
Fertilizing trees in late September and early October helps to promote root growth. The nutrients will still be in the soil once spring comes around when your shrubs and trees start to grow. Fertilizer should be spread evenly across the soil surface. Roots spread well beyond the branches on established trees and shrubs; therefore, the area beneath the plant to be fertilized should be 1.5 times the diameter of the branch spread.
For premium shrub, tree, and plant fertilizing, The Farm recommends: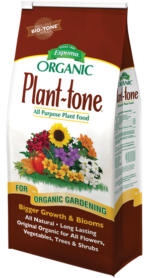 Plant Tone, by Espoma, an all natural and organic fertilizer. Made from fine quality organics, Plant Tone breaks down gradually to provide a long lasting food resovoir activated throughout the growing season.
Branded as the Original Organic fertilizer for all flowers, vegetables, trees and shrubs, you really can't go wrong with this multi-use fertilizer.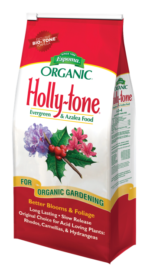 Holly-tone is the best organic fertilizer for all acid loving plants! It's the #1 choice for hollies, azaleas, camellias, evergreens, dogwoods, and more!
The long lasting, slow release organic nature of this fertilizer is the perfect addition to your shrub & tree care list.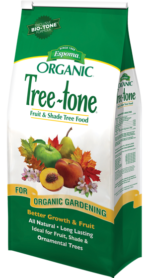 Formulated specifically for shade, fruit, and ornamental trees Tree-tone is a premium organic fertilizer. The natural organics in Tree-tone break down gradually to provide a long lasting nutrient reservoir to feed the entire tree.
The all natural and long lasting formula, called Bio-tone, benefits all parts of your shrubs & trees: leaves, trunk, and roots.
All information listed via: www.thisoldhouse.com/ideas/essential-tips-fall-fertilizing; http://www.mortonarb.org/trees-plants/tree-and-plant-advice/horticulture-care/fertilizing; http://www.jonathangreen.com/product/winter-survival-fall-lawn-food.html; https://www.espoma.com/product/plant-tone/; https://www.espoma.com/product/holly-tone/#toggle-id-2; https://www.espoma.com/product/tree-tone/